8 till 13 August 2023
T-shirt Conversations
buren |
BE
In T-shirt Conversations, the Flemish collective buren collected statement texts that are printed on T-shirts that they encountered on the street, in shops or on the street. Did you ever saw two T-shirts having a conversation?
Location
Zuiderpark/Tent Groen
For T-shirt Conversations, the collective questions the often ironic, rude or shameless characters of the T-shirt texts that have slowly become part of our daily lives. "I am with stupid" or "Explore more". But well-known artists also show off their statements. According to their t-shirts, actress Eva Longoria wants more privacy, rapper Jay-Z blames society and singer Britney Spears is 'the American Dream'.
The texts function as jokes, to embarrass someone or something, to stimulate yourself or someone else or to put yourself in perspective. Or it serves as a political tool to demand something from the world or to make your voice heard. Why were these statements created? Who are they for? And what kind of conversations take place when these T-shirts talk to each other? In the performance T-shirt Conversations, buren explores the political, poetic, absurd and humorous qualities of the texts and brings them out again. Do you have a statement T-shirt of your own? Feel free to wear these and speak up!
For adults, but also suitable for children aged 12 and above. The performance sometimes uses foul language and sexual references.

There is an extra performance at 18:30h on Sunday 13 August, get your tickets at the Tickets & Info.

This project is part of the European programme apap – FEMINIST FUTURES, in the frame of Feminist Futures Festival. A project co-funded by the Creative Europe Programme of the European Union.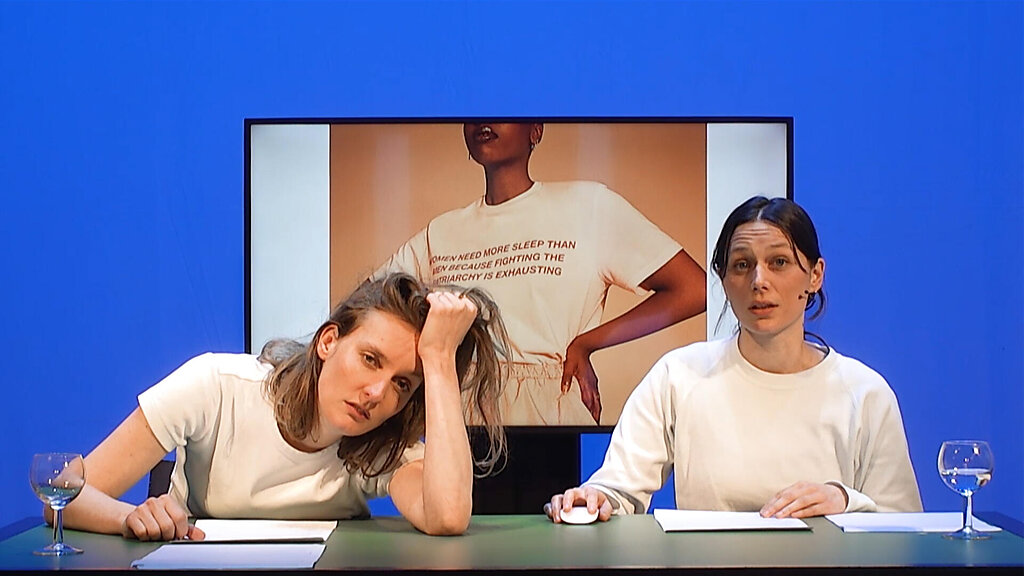 Concept & performance buren (Melissa Mabesoone & Oshin Albrecht)
Photo Ines bodlovic / buren