The 33rd edition of Theaterfestival Boulevard is over
Time for a recap
For eleven days we created a temporary community in and around 's-Hertogenbosch. Artists and audiences explored the theme of 'home and origins' together during this 33rd edition of Theaterfestival Boulevard. We welcomed lots of familiar faces to our temporary home, but also a great number of newcomers - in all shapes and sizes. We greeted them on the stage, behind the scenes, in the square and in seats across a range of locations.
Highlights
A string of highlights characterises this edition – they are reflected in the audience's favourites: Chasse Patate by Studio ORKA, the opening show Imitation Of Life by Proton Theatre, Phobiarama by Dries Verhoeven and For the Time Being by Boukje Schweigman. Other stand-out shows included smaller scale projects like Woman by Himherandit and the international collaboration Stabat Mater. With La Partida, the Spanish Compagnie Vero presented a site-specific piece of street theatre in the shape of a danced football match, which was enjoyed by both festival goers and locals.
From the press:
"Studio ORKA is very much a part of Boulevard. The show was co-produced by Boulevard and, like other artists such as Dries Verhoeven, Schweigman& and Wunderbaum, Studio ORKA is one of the companies with which the festival has forged a special connection." … "A compelling tragicomedy with which Studio ORKA has surpassed itself." – Brabants Dagblad.

On the first day of the festival De Theaterkrant came to our opener Imitation Of Life and wrote: "(****) Imitation of Life, the hyper-realistic opening show at Theaterfestival Boulevard, doesn't offer any answers, doesn't take sides, but has found an impressive way to uncover the consequences of gentrification, racism, social exploitation and ruthless bureaucracy that turns lives on their heads." Trouw added: "Far from being a pleasant experience or a festive event, in terms of aesthetics and subject matter it is the perfect opener for Theaterfestival Boulevard 2017, which takes feeling at home and welcoming in the stranger as its central themes."

De Volkskrant saw a number of shows including the premiere of For the Time Being by Schweigman&: "(****) In a deserted industrial estate the dancers draw their audience into the void, into a world that is freed from the daily grind. Boukje Schweigman's physical form of theatre is characterised by a weird and wonderful kind of intensity and precision."
De Theaterkrant saw the three-part Stabat Mater: "While the first is associative, the next epic in scale and the third mesmerizing, the three pieces all seem to stay close to the performers themselves. The contrast could hardly be more marked with the mass that was historically performed in these church spaces, which was intended to make worshippers focus on something higher; a love for something outside, more elevated than the self." De Volkskrant called it "a fabulous project" and described Yoko Higashino's contribution as: "embracing the theme of sorrow without reserve" and "a deeply moving, emotional and versatile solo, a sublime and subtle performance."
Our BLVRD Theater was filled to the rafters most nights, for shows like Soiree rond Drs. P and Claron Mc Fadden – Aubergine. Loud cheers could be heard outside the canvas. The Josephkwartier became a second home, a place for wonderful encounters, visual art, installations, performances and the new feature Openluchtgesprekken, a series of conversations between artists and professionals. We spoke to people like a cyber detective and an expert on invasive exotic species. In the series Tafelen Met Makers we got to know the artists in more intimate ways. The way to a man's art is, evidently, also through the stomach.

International
The 2017 edition betrayed Boulevard' growing international ambition. We featured work from all four points of the compass and welcomed professionals from 15 different countries. They offered a fresh perspective on our festival. In addition to the good quality and the diversity of our programme they praised the pleasant way our city and our festival interact. But the thing that impressed them most was our audience; its voraciousness and enthusiasm.
We continue to forge new bonds and strengthen them year round. Right before the start of the festival we were informed that after having received an EFFE label, we are now an EFFE Laureate. With 26 selected European festivals (out of a total of 715) we are eligible for the European festival prize that will be awarded in Brussels on 18 September. In addition, we announced our two-year collaboration with the European project Performing Gender, featuring colleagues from 5 countries.

The Numbers
This 33rd edition brought together 120 shows, from no fewer than 18 countries, with 33 productions from 5 continents. We presented 32 (Dutch) premieres.
The number of tickets sold this year totalled 55,000 while 135,000 people visited our street theatre, music shows and other free shows – the same as in 2016. The numbers make us proud in light of the difficult timing of our festival this year – it was the middle of the school holidays in the region – and the unsettled weather.

The Audience
The great diversity of the programme this edition ensured we offered something for almost everyone. Our audiences were more diverse than ever. We welcomed people from all ages – from groups of children from out-of-school care to older visitors with 33 editions of Boulevard below the belt, people with different financial statuses, theatre buffs and new enthusiasts.
One thing is very clear: our audiences have a great hunger – for art, culture, encounters, food and drink – and an open mind. An open mind for the best in art in all its many guises – presented in the temporary home that Boulevard intends to be.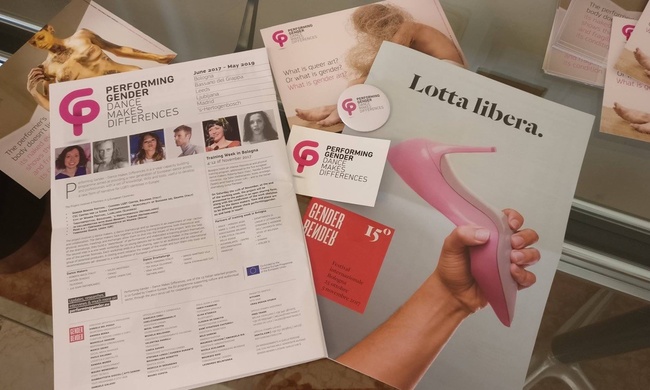 Articles
30 November 2017
Performing Gender diving into practice at festivals City of Women and Gender Bender