12 till 13 August 2023
A True Story
71BODIES/ Daniel Mariblanca |
NO
A True Story is a new performance by 71BODIES - the company of choreographer Daniel Mariblanca. In 2017, Mariblanca already made a big impression on Boulevard with his performance WOMAN and in 2018 he returned with the performance 71BODIES 1DANCE. Daniel Mariblance focusses in A True Story on transgender childhood, transgender parenting and family relationships.
Location
Maaspoort Den Bosch (sporthal)
Choreographer Daniel Mariblanca collaborates in A True Story with national and international artists and creates a performance in which dance, live music, visual art and performance come together. The performance is based on the lives of the dancers themselves – children, teenagers and adults – who, like Mariblanca, are transgender.
Daniel: "We, transgender people, cannot go through a transition alone. We need all of society to make the transition with us. For this, we need to hear and consider all sides of the story. The essence of A True Story is to illuminate the complexity of all experiences; not only of the transgender person, but also how the family experiences the gender transition of their child, parent, partner or friend."
A True Story is part of Lijn73, in which we work with makers who have or want to develop a special commitment to the city. This year these makers also seek out specific groups as audiences or co-makers in projects. This way Theaterfestival Boulevard continues to delve into and connect with the city and its inhabitants.
A True Story will have its Dutch premiere on Boulevard on Saturday the 12th of August at 15:00h.
Workshop
Choreographer Daniel Mariblanca and Theaterfestival Boulevard invite you to celebrate being trans! In the days before the performance you get to work in a workshop with dance and movement together with Daniel and other participants. Are you interested or do you want to invite someone? You can read more information on participating via this link.
Accessibility / relaxed performance
This performance is a relaxed performance on 12 August from 15.00h - 16.30h and is particularly suitable for people with sensory sensitivity and parents and children of all ages.

• The layout of the room and the use of light and sound are relaxing and low-stimulus.
• You don't have to be absolutely still if you can't.
• You may leave the room for a while or stand somewhere, but walking around the room during the performance is not allowed.

Read more on relaxed performances.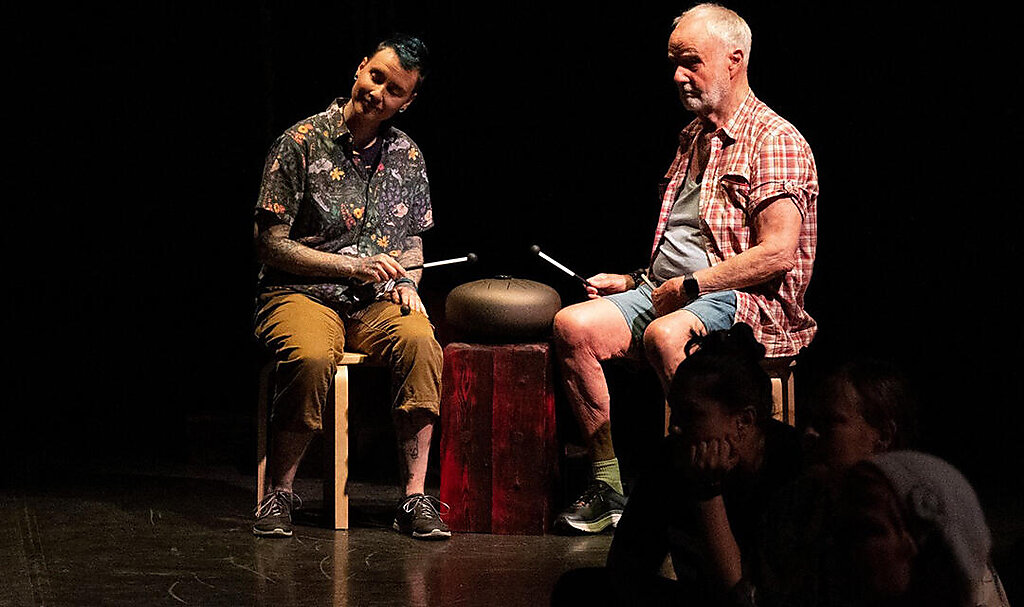 Concept & choreography Daniel Mariblanca
Light designer Thomas Bruvik
Visual collaborator Karoline Bakken Lund
Sound technician Andreas Lassen
Dramaturgy assistant Ingeleiv Berstad
Company & tour manager Davone Sirmans
Photo Ursula Kaufmann
Coproducer Festspillene i Bergen, BIT Teatergarasjen, Carte Blanche, Dansens Hus Oslo, Bergen Kjøtt, Kulturrådet, Fond for lyd og bilde, Fritt Ord, Bergen Kommune


Protagonist Iben Mansfeld
Protagonist Koyote Millar
Protagonist Domènech Martin Navarro
Protagonist Jesse Robleño García
Protagonist Ángel Santano Valcárcel
Protagonist Alejandro Garrido Rodríguez
Protagonist Lara Gil Bóveda
Family protagonist Silvia Navarro Moreno
Family protagonist María José Rodríguez Garrido
Family protagonist Nahikare Bóveda González
Family protagonist Ninian Millar
Family protagonist Patricia Mariblanca Fuentes
Family protagonist Saida García Casuso